Yoga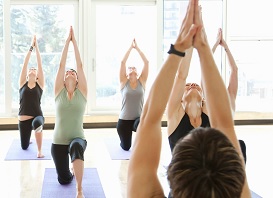 Positive affirmation and intention play a large role in Shari's life, and she uses restorative, ashtanga/anusara mix and hot yoga combined with meditation to achieve and maintain a balanced lifestyle.
Her passion for yoga led her to obtain 200 and 500 hour certifications in Vinyasa, Ashtanga/Hatha mix, restorative yoga and meditation; as well as teaching yoga and therapeutics to children and teens.
She has enjoyed teaching both private and group sessions at Snap Fitness, GoRyde and the Bernards Township public schools. Typically, her classes include a mix of traditional yoga, meditation and affirmation alongside chakra work, literature infusion and personal reflection.
On a personal level, the importance of yoga in Shari's life is also driven by the health benefits. Yoga is known to assist with stress management, bring exercise goals within reach and assist with specific ailments including blood pressure concerns, diabetes and arthritis.
Cooking
The art of cooking was passed down to Shari from her grandmother, and in turn her mother, as it was an integral part of family life while growing up.
Once old enough to cook independently, Shari began experimenting with traditional family recipes, adding her own twist and introducing new dishes to her repertoire.
To date, specialities include home-made salad dressing with speciality salads ,homemade pumpkin ravioli with a walnut, brown sugar and sage sauce, buttermilk pecan crusted salmon and she makes a tasty rack of lamb.
Shari enjoys experimenting with culinary concepts and once catered a unique five course dinner for more than 50 people. The menu theme was 'Upside Down' which started with an appetiser that looked like dessert, and dessert which resembled a pasta course. The unusual presentation was very well received by surprised and delighted guests.
Beyond the family kitchen, Shari honed her craft in several restaurant kitchens, and has since catered cocktail and dinner parties, with groups ranging from intimate to more than 100 guests.
Today, in the spirit of family values and tradition, Shari spends time in the kitchen with her own daughter; passing on tips, methods and recipes as her mother and grandmother did so many years ago.