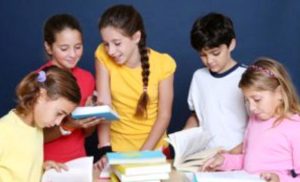 For the kids who just finished their first year in kindergarten, or even "graduated" from first grade, the end of the school year might be a real traumatic event for them.  Even though they already know that they can sleep in later, and stay up later, there is angst over leaving their teacher and knowing they'll have a new teacher in the Fall when school resumes.  And, how about missing all their little friends?  Back in the day, we might not have seen our classmates again 'til Fall, since our parents pretty much relegated our daylight activities to the neighborhood.  In these modern times, kids are "connected" – they have their phones and even the little ones will stay connected electronically through the summer, but it is still traumatic for them, nonetheless.  Therefore, it behooves the parents (most especially the mom) to find some good, solid educational experiences that are fun to intermingle with Summer vacation's extra down time and get kids away from the TV. and electronic gizmos.
Shari Duddy, a New Jersey educator and teacher has some suggestions to get you and your children through the Summer and they are listed below:

New friends
Here's an idea that is fun and educational, and, since kids are online and in tune with computer workings anyway, why not consider going to the site Global Pen Friends and getting a pen pal?  Global Pen Friends is a family friendly pen pal club where you can meet friends from all around the world and communicate either in a postal (snail mail) or e-mail fashion.  While a domestic pen pal would be fun, it would be even more exciting to have an international pen pal, especially in this exciting Olympics year, or, how about having a pen pal in a country where there is limited or no internet so the pen pals would actually have to sit down, with paper and a pen, and write a letter to their faraway friend.  This is an excellent idea on so many levels – improving the cursive, being diligent about learning how to compose a real letter as opposed to the quick texts or acronyms that so many young folks use these days when they communicate with one another.  A pen pal can be a rewarding and fun as well as educational, experience.  To find a pen pal, simply go to this site at: https://www.globalpenfriends.com/ or on Facebook at: https://www.facebook.com/GlobalPenfriends/.
Maybe your kids think the idea of a pen pal is passé and they would like to enter the blogosphere instead.  No problem!  See how your child likes the idea of creating a blog in a safe, closed community.  Both teachers and students may blog at Edublogs and Kidblog.  These are secure and teacher-approved sites that are a great way to practice creative writing and are free to join.  Maybe your budding blogger might become a future novelist. Blogging would be akin to keeping a journal but a lot more creative.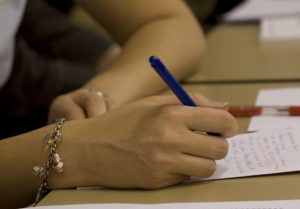 More fun and educational
One of the best ways to encourage a child to build vocabulary skills is through reading.  Local libraries often have book clubs for children, or a reading group where the children's librarian reads aloud and all the children comment on the book as they progress at each reading session.  Often the children's librarian will compile a Summer reading list for at home for her young charges, and that is a fun way for youngsters to while away a few hours daily, especially when the temps are dangerously hot and everyone chooses to stay indoors where it is cool.
But wait – there are alternatives to just reading books.  For the youngest kids, try watching the TV. with the volume turned off and have them rely only on the closed captioning to learn new vocabulary words.
Bridging the gap
As discussed above, it is a good idea to retain a wee bit of "classroom mode" so that your children don't have culture shock when they have to hit the books again come Fall.  Get the kids to go back to nature and enjoy Mother Earth by planting a small vegetable garden.  First, research the best location in the yard, type of soil and then buy some seed packets.  Show your child how to plant the seeds and help them take nurture those plants and keep a journal about the entire process.  Some veggies would be an easy or fun project, or a mammoth sunflower whose daily growth can be measured and documented in the journal.  Kids and their parents can hop on the website "Kids Gardening" for ideas and resources.
There is no reason for kids to be bored from lack of stimulation… try these ideas on for size and help your kids to have a fun Summer with a little education in between.